NCM Engineering, a general engineering workshop Since 1998.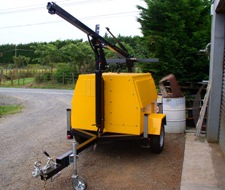 With over 30 years experience we are confident that we can give our customers complete and competent advice & service.
Our goal as an engineering company is to give our customers a high quality end product irrespective of the size or complexity of the work being undertaken & also to be innovative.
As a result of that attitude we have developed a very wide range of skills and experiences in:
Fabrication welding
Production welding
Transport engineering
House beam construction and installation
Storage solutions (custom shelving),
Plant and machine construction (skid based pumps, mobile lighting towers, VMS trailers, etc)
Design and build (removable truck or trailer mounted vacuum cleaning system)
Treadmills for horses
to name a few.
NCM is still a machine shop that can cover almost all light to medium machining necessities (turning, milling, broaching, etc) and if we can't do it we will know someone that can.